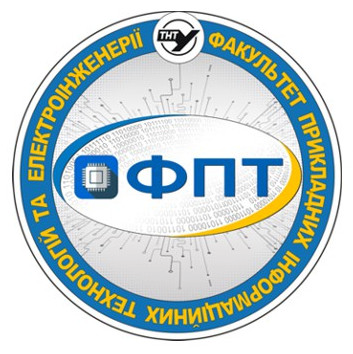 Ternopil Ivan Puluj National Technical University
Факультет прикладних інформаційних технологій та електроінженерії
Кафедра біотехнічних систем
Electronic Devices
syllabus
| | |
| --- | --- |
| Major | 163 - Біомедична інженерія (бакалавр) |
| Field of knowledge | 16 Хімічна та біоінженерія |
| Academic degree | bachelor's |
Course
Course type
required
special education
Study start course
3
Semesters
5
Form of education
full-time
Study hours structure

| | |
| --- | --- |
| 32 | – lectures |
| 32 | – laboratory classes |

Amount of hours for individual work
56
ECTS credits
4
Form of final examination
credit
Lecturer
| | |
| --- | --- |
| Academic degree | PhD |
| Academic title | Assoc. Prof. |
| Full name | Dozorskyi Vasyl |
Prerequirements
(prerequisite courses)
METROLOGY, FUNDAMENTALS OF CIRCUIT ANALYSIS AND SIGNALS, BIOMEDICAL ENGINEERING PRINCIPLES
Course goals and learning objectives
The purpose of course is to acquire students theoretical knowledge and practical skills when choosing and developing elements of modern electronic medical equipment.
The objectives of the course are to study the principle of action, functional and schematic basis, constructive, operational characteristics of various elements that are part of the functional structure of electronic devices, the necessary calculations and the choice of elements or the development of design elements of partial application.
Course description
Lectures
ELEMENTS OF SCHEMES OF ELECTRONIC APPARATUS
RESISTORS
CAPACITORS
COILS
TRANSFORMERS
DIODES
TRANSISTORS
THYRISTORS
SEMICONDUCTOR BIPOLAR MICROCIRCUITS
SEMICONDUCTOR UNIPOLAR MICROCIRCUITS
OPTOELECTRONIC INTEGRATED CIRCUITS
OPTICAL INTEGRATED CIRCUITS
INTEGRATED NANOSCALE
Laboratory classes
INTRODUCTION TO THE SOFTWARE PACKAGE OF SIMULATION OF ELECTRONIC SCHEMES MULTISIM-11
DIODES
TRANSISTORS
THYRISTORS
VOLTAGE STABILIZER
Assessment criteria
Passing tests, performing laboratory work, individual tasks
Recommended reading list. Subject Resources
1. Crecraft, Filip Mincic; Stephen Gergely (2002). Analog Electronics: Circuits, Systems and Signal Processing. Butterworth-Heinemann. p. 110.
2. Horowitz, Paul; Winfield Hill (1989). The Art of Electronics, 2nd Ed. London: Cambridge University Press. p. 44.
3. "Physical Explanation – General Semiconductors". 2010-05-25. Retrieved 2010-08-06.
4. "The Constituents of Semiconductor Components". 2010-05-25. Archived from the original on 2011-07-10. Retrieved 2010-08-06.
5. Turner, L. W. (2013). Electronics Engineer's Reference Book, 4th Ed. Butterworth-Heinemann. pp. 8.14–8.22. ISBN 978-1483161273.
Course author
PhD, Assoc. Prof. Dozorskyi Vasyl
Дата останнього оновлення: 2020-11-25 16:47:27