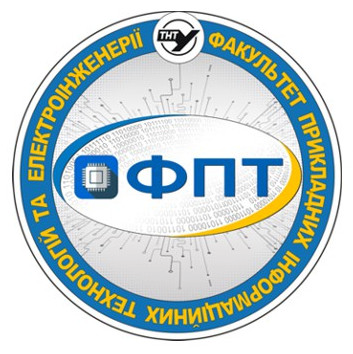 Ternopil Ivan Puluj National Technical University
Факультет прикладних інформаційних технологій та електроінженерії
Кафедра біотехнічних систем
Fundamentals of Signals Theory
syllabus
| | |
| --- | --- |
| Major | 163 - Біомедична інженерія (бакалавр) |
| Field of knowledge | 16 Хімічна та біоінженерія |
| Academic degree | bachelor's |
Course
Course type
required
special education
Study start course
2
Semesters
3
Form of education
full-time
Study hours structure

| | |
| --- | --- |
| 32 | – lectures |
| 32 | – laboratory classes |

Amount of hours for individual work
56
ECTS credits
4
Form of final examination
exam
Lecturer
| | |
| --- | --- |
| Academic degree | PhD |
| Academic title | Assoc. Prof. |
| Full name | Dozorskyi Vasyl |
Prerequirements
(prerequisite courses)
Course goals and learning objectives
Purpose: the study of the structure of signals as information carriers; structure and methods of analysis of electronic circles, on the basis of which the devices of transmission and transformation of information are built.
Objectives: acquaintance of students with signal structure and their processing.
Course description
Lectures
SIGNALS
MATHEMATICAL MODELS OF SIGNALS
INFORMATION CAPACITY OF SIGNALS
AMPLITUDE MODULATION
ANGULAR MODULATION
AMPLITUDE-PULSE MODULATION
DISCRETE FORM OF SIGNALS
SIGNAL DISCRETIZATION
Laboratory classes
HIGH-CARRIER AMPLITUDE MODULATION
AMPLITUDE MODULATION WITH SUPPRESSED CARRIER
FREQUENCY AND PHASE MODULATION OF SIGNALS
AMPLITUDE-PULSE MODULATION
DISCRETIZATION AND QUANTIZATION OF SIGNALS
Assessment criteria
Passing tests, performing laboratory work, individual tasks
Recommended reading list. Subject Resources
1. Roland Priemer (1991). Introductory Signal Processing. World Scientific. p. 1.
2. Pragnan Chakravorty, "What Is a Signal? [Lecture Notes],"IEEE Signal Processing Magazine, vol. 35, no. 5, pp. 175-177, Sept. 2018.
3. "Digital signals". www.st-andrews.ac.uk.
4. Proakis, John G.; Manolakis, Dimitris G. (2007-01-01). Digital Signal Processing. Pearson Prentice Hall.
5. Paul Horowitz; Winfield Hill (2015). The Art of Electronics. Cambridge University Press.
Course author
PhD, Assoc. Prof. Dozorskyi Vasyl
Дата останнього оновлення: 2020-11-25 17:27:23